PIT STICKS
Trio Set of Three
Regular price
Sale price
$34.00 USD
Unit price
per
Sale
Sold out
Trio: Complete your deodorant routine and try any three scents for $34. 
Handcrafted intentionally with effective yet gentle ingredients. Made without synthetic fragrances, phthlalates, parabens, sulfates, aluminum, alcohol, and plastic. Made with 100% pure beeswax, organic baking soda, organic arrowroot powder, organic cold pressed coconut oil, therapeutic-grade essential oils.
Our plastic-free packaging is made from eco-friendly paper tubes. They are lined with a plant-based, wax paper lining that is fully compostable, and biodegradable.
Add any 3 products to your cart for for $34.
*Note: color of packaging may vary slightly.
Share
Ingredients

pure beeswax, organic baking soda, organic arrowroot powder, organic cold pressed coconut oil, essential oils
How to use

Hold Pit Stick in hand momentarily to soften on contact with body heat, push up, and apply to underarm.
Storage

Store in a cool, dry place, out of direct sunlight. Some ingredients are oil based and may melt above 80 degrees.

Don't sweat the little things. If you have any issues with your deodorant we'll send you a new one complimentary.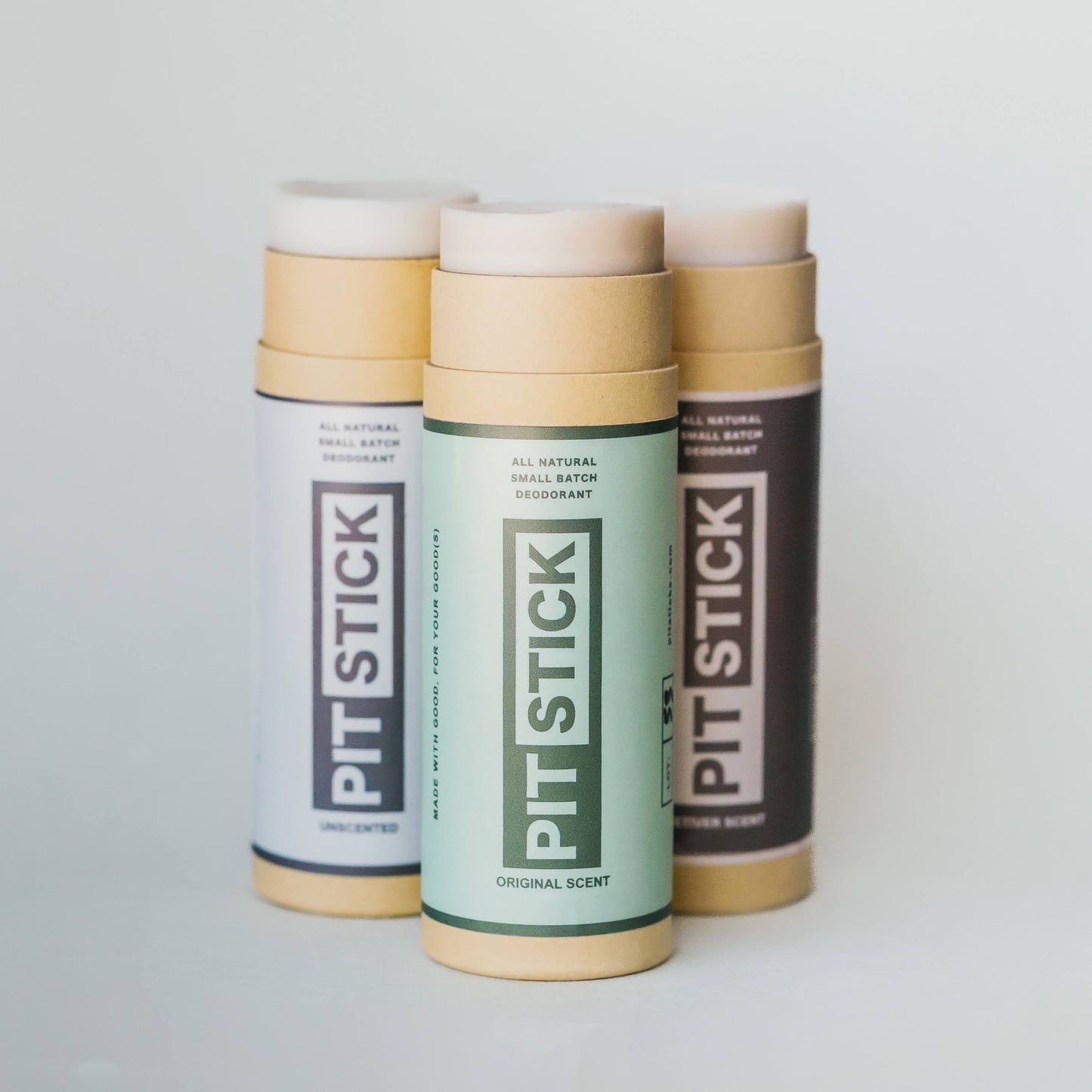 Smelled good, but reaction
Was not easy to hold the bottom up while applying, if you do not hold the bottom then the cardboard rubs on your skin. Product smelled nice, but day one I had severe itching. Day two I had a severe rash, and day 3 of using the product I had sores and the rash was even worse. I had to stop using the product. I tried two of the sticks, and had a reaction with both, including the unscented. I'm sure they work well if you are not allergic. I have 2 never even touched sticks of anyone wants them.
Hi Aubrey, thank you for your comment. I'm sorry your experience did not match our expectations. We do include a small percentage of baking soda in our formula, while it's less than others on the market; it still can be irritating to some. Usually no transition time is needed if you've been using a natural deodorant, but may be needed if previously using an antiperspirant. We also have Pit Mist, a cleansing tonic which is a baking-soda free option that helps combat odor using tea tree oil's anti-bacterial properties. We've shipped a complimentary Pit Mist to you.
"This is the only deodorant that works against stress sweat, even working at a high paced tech job"

-Justin S.

"I'm SO glad I found Pit Sticks! it has clean ingredients, smells great, and is strong enough to get the job done whether I'm working out, carting kids around, or traveling all day for work"

-Emily P.

"The scent of Pit Stick is one of my favorite all-natural deodorants, it's unlike anything out there. Not to mention it actually works for the entire day"

-Brittany M