PIT STICKS
Original Scent
Regular price
Sale price
$14.00 USD
Unit price
per
Sale
Sold out
Original Scent: sophisticated warm almond, subtle notes of nuts and vanilla. 
Handcrafted intentionally with effective yet gentle ingredients. Made without synthetic fragrances, phthlalates, parabens, sulfates, aluminum, alcohol, and plastic. Made with 100% pure beeswax, organic baking soda, organic arrowroot powder, organic cold pressed coconut oil, therapeutic-grade essential oils.
Our plastic-free packaging is made from eco-friendly paper tubes. They are lined with a plant-based, wax paper lining that is fully compostable, and biodegradable.
*Note: color of packaging may vary slightly.
Ingredients

pure beeswax, organic baking soda, organic arrowroot powder, organic cold pressed coconut oil, essential oils
How to use

Hold Pit Stick in hand momentarily to soften on contact with body heat, push up, and apply to underarm.
Storage

Store in a cool, dry place, out of direct sunlight. Some ingredients are oil based and may melt above 80 degrees.

Don't sweat the little things. If you have any issues with your deodorant we'll send you a new one complimentary.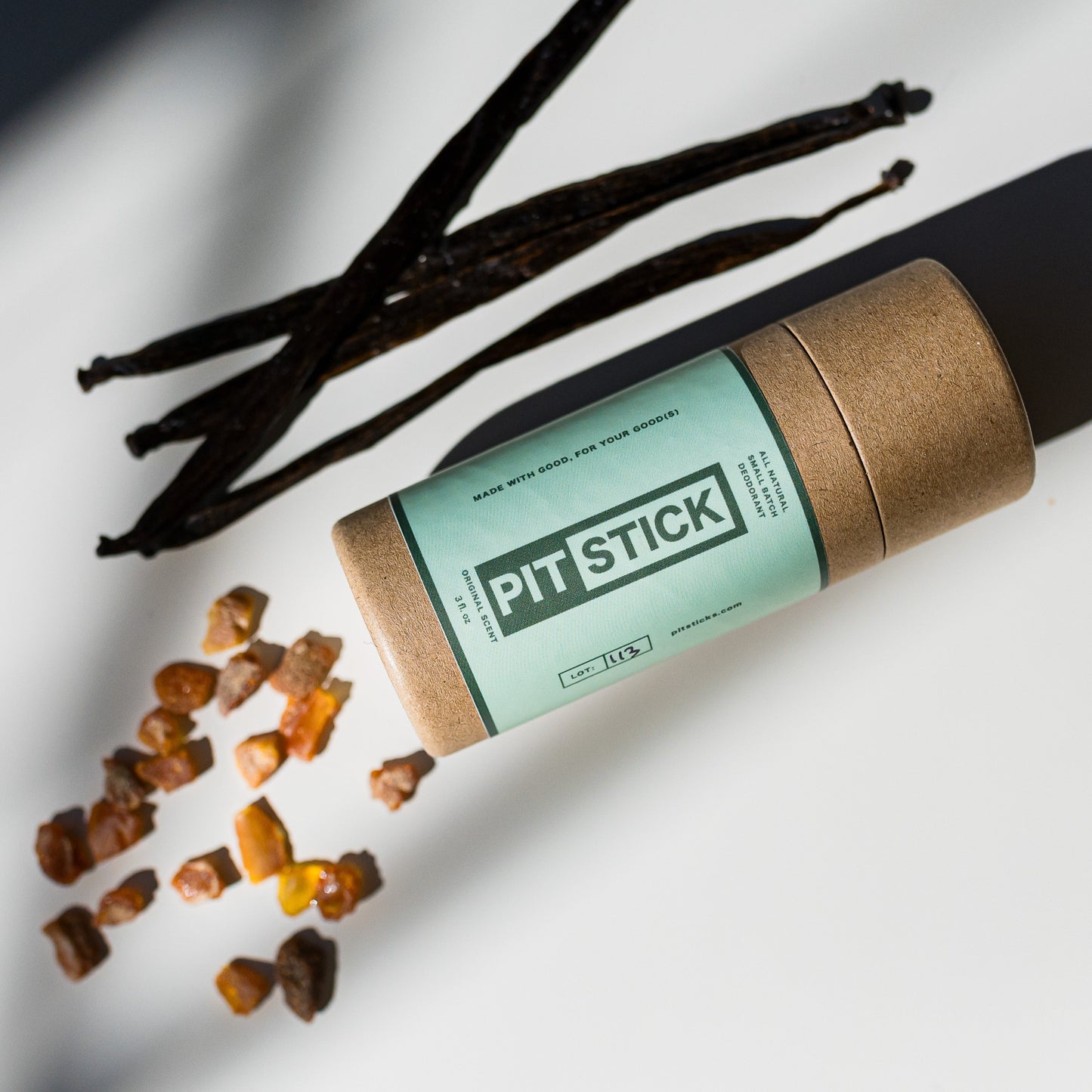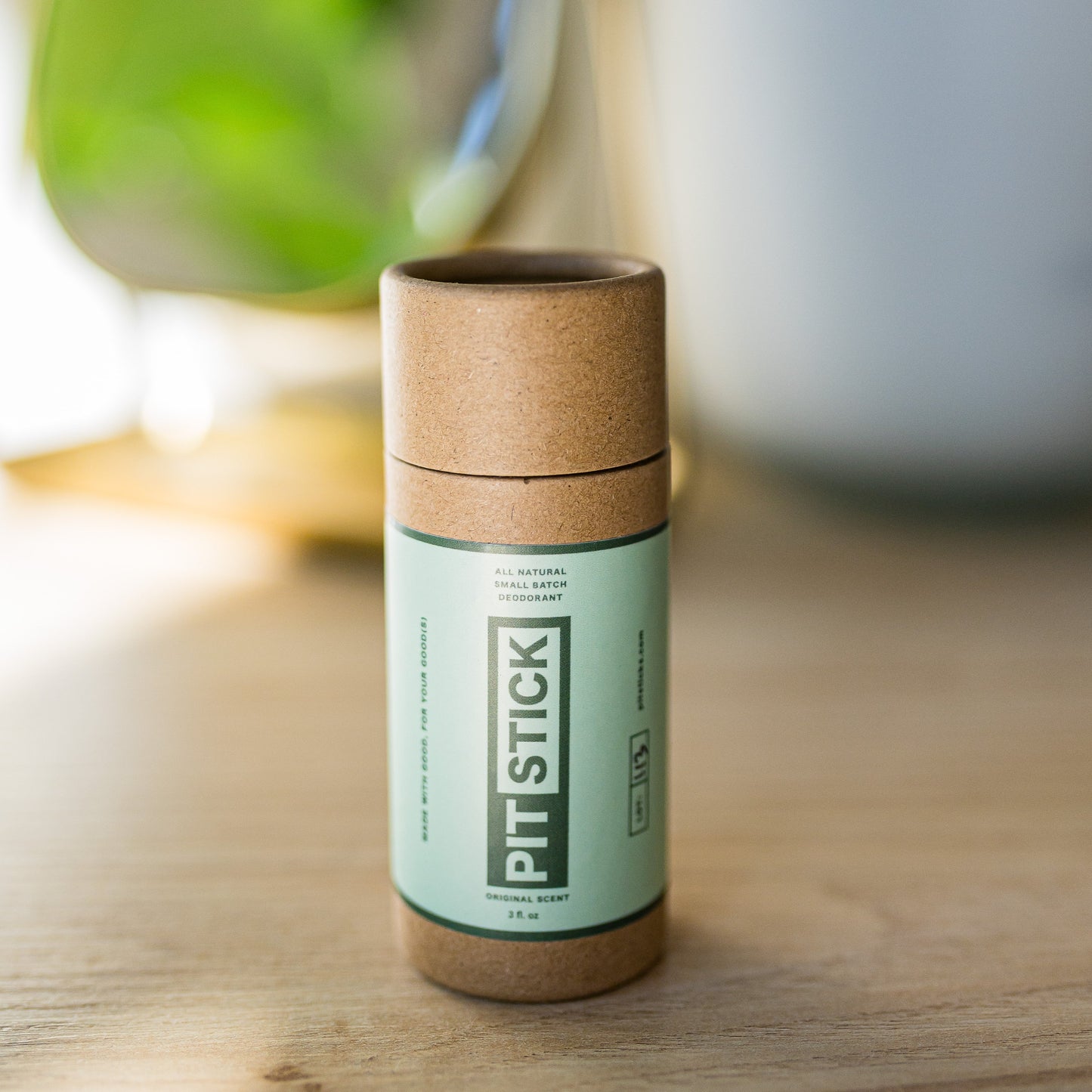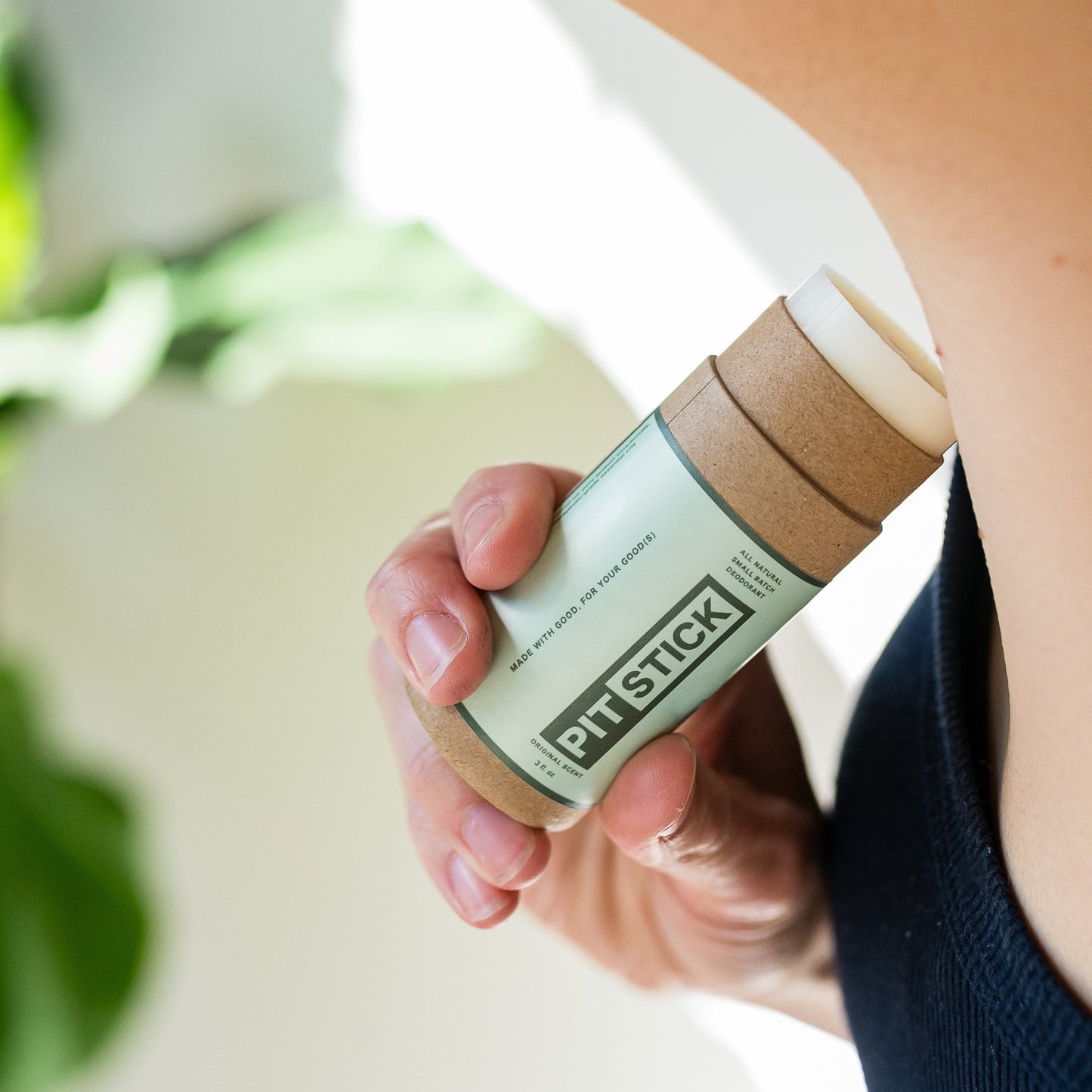 I love the Pit Stick!!!
I have been trying to find a more natural approach to underarm deodorant/antiperspirant. I tried a few products and ended up with a painful rash in both arm pits. I happened to run into Andria at the Grand Haven art fair and bought the Pit Stick. I put it on when I got home and the itching stopped. I used it the next day when I worked out. No issues. I put it on the second day after a shower and noticed the rash was fading. SO HAPPY!!!
Clinical strength deodorant user turned pit stick fan!!
This review is coming from a girl who has tried almost every single deodorant you can think of on the shelves at target, in an attempt to cover up any and everything over the years… I have been wanting to switch to natural deodorant for YEARS but I grew up super active and still am, working out about 5x per week, and now starting to incorporate hot yoga into the routine. I am constantly worried about smelling sweaty, as I get hot super easily and would do anything to smell good. My mom got this on a whim after seeing an influencer we follow post about it, and this is my 3rd day using it, 1st time with hot yoga. I am blown away!!!! No reapplication, I put it on before I went to work at 3:30a and now at 1:45p, post 1 hour hot yoga and 7 hour work day, I still do not smell!!!!!!! This is blowing my mind and I am about to get every scent to try, and tell everyone about this. I am obsessed! I had my doubts the first day but I feel like my body is already getting used to it. Placing my order right after this and never switching back to regular deodorant.
Amazing scent!
I really enjoyed the smell and feel of Pit Sticks! Original scent is lovely and not too overpowering. The texture isn't sticky and I feel comfortable all day after application. Love this scent and can't wait to try them al!
"This is the only deodorant that works against stress sweat, even working at a high paced tech job"

-Justin S.

"I'm SO glad I found Pit Sticks! it has clean ingredients, smells great, and is strong enough to get the job done whether I'm working out, carting kids around, or traveling all day for work"

-Emily P.

"The scent of Pit Stick is one of my favorite all-natural deodorants, it's unlike anything out there. Not to mention it actually works for the entire day"

-Brittany M